WORK CHAIRS FOR THE ESD SECTOR
One of the biggest risks at electronic workstations is posed by electrostatic discharge. This can lead to considerable damage in production. The charging of objects or people at the ESD workstation thus needs to be prevented at all times, and the conduction of displaced charge guaranteed. ESD chairs from Bimos provide reliable protection at the ESD workplace: The upholstery, steel parts, plastic, castors and glides are conductible. The comprehensive conduction of all components makes ESD chairs from Bimos a reliable overall solution.
OUR ESD CHAIRS
ESD Neon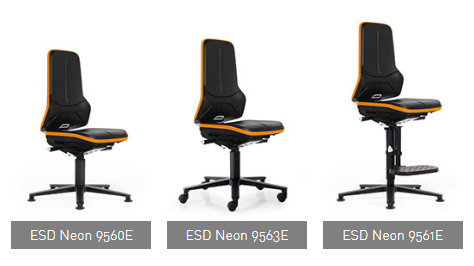 A top choice for ESD workplaces: When it comes to conductive work chairs that look good while delivering on ergonomics and comfort, the only real option is the ESD Neon chair. Just like all the ESD solutions from Bimos, this model far exceeds current standards. Combined with its outstanding design, the ESD chair bridges the gap between the highest of technical requirements and lasting comfort when sitting.
ESD Nexxit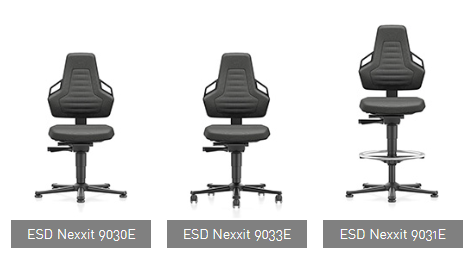 Ergonomic support, practical handling and outstanding robustness – modern industry demands specific requirements of the quality of work chairs. With its unique industry ergonomics as well as simple, intuitive adjustment to the respective user, Nexxit automatically ensures the correct sitting posture. It impresses with high comfort and extreme resistance for use in industrial environments.
ESD Sintec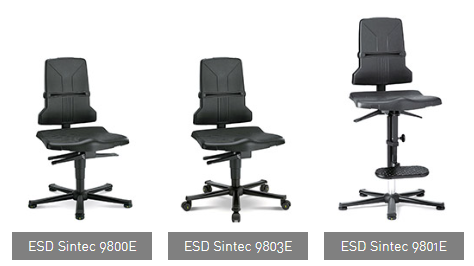 Reliable ESD protection meets flexible seating: With its conductive surfaces and volume-conductive materials, the Sintec chair offers outstanding suitability for use at the ESD workplace. Its excellent ergonomic quality, its comfort and its individual functions make this ESD chair the ideal seating solution for any work situation.
ESD Unitec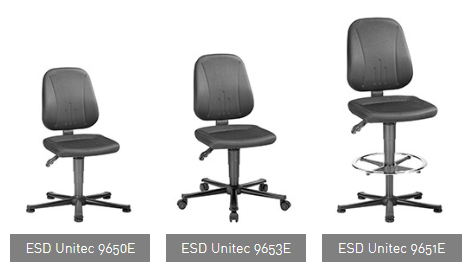 Solid and inexpensive – ESD Unitec is the basic solution for the ESD workplace. It offers all the standard protective features for the prevention of electrostatic charge and allows for simple adjustment to meet respective user requirements. This ESD chair is ideal for workstations at which the employee needs to both sit and stand. It has a generous seat and a high backrest.
ESD Basic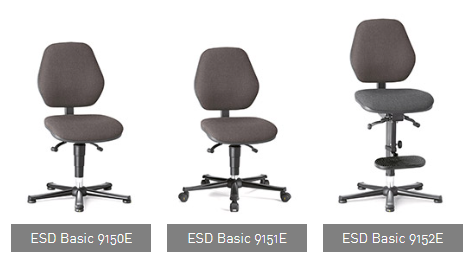 The all-rounder among the ESD chairs – ESD Basic is the most economic seating solution for the ESD workplace and is particularly good value for money. Its ergonomic design, high level of user comfort and reliable ESD protection according to EN 61340-5-1 represent all the important features of a high-performance work chair for the electronic industry.
ESD Stool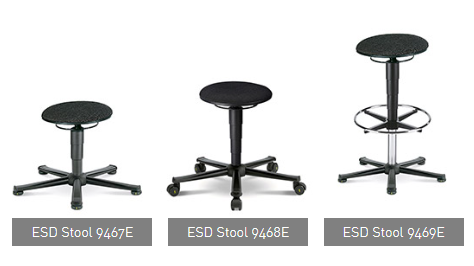 Product information Some of the tasks associated with ESD areas call for elevated seating positions or require workers to stand for long periods or to alternate between standing up and sitting down. As a result, their bodies are often subjected to a great deal of physical stress. Bimos has the answer to these requirements: stools and footrests suitable for ESD areas that support the human body and relieve physical stress.