WORK CHAIRS IN PRODUCTION
Any work chair used in production has special requirements to meet. Work chairs at production workstations not only need to combine maximum freedom of movement with optimum ergonomics, but primarily demonstrate extreme resilience. Only then are they able to withstand the heaviest of external influences. With their anatomical shape, flexible upholstery and resilient materials, the work chairs from Bimos are the perfect seating solutions for production.
OUR WORK & INDUSTRIAL CHAIRS
Neon
Excellent design quality meets superb ergonomics and special comfort – Neon represents the new generation of work chairs. No other production work chair has features that can compare. Thanks to its innovative 1+1 system, the upholstery can be changed with just one click. This means the Neon is flexible, sustainable and optically adaptable for the workplace.
Nexxit
Ergonomic support, practical handling and outstanding robustness – modern industry demands specific requirements of the quality of work chairs. With its unique industry ergonomics as well as simple, intuitive adjustment to the respective user, Nexxit automatically ensures the correct sitting posture. It impresses with high comfort and extreme resistance for use in industrial environments.
Sintec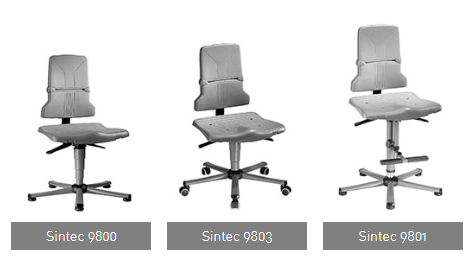 Proven quality for custom seating: The Sintec work chair is user-friendly through and through, guaranteeing flexible seating solutions at any production workplace. This chair boasts a wide variety of mechanisms and is fitted with seat and back shells made from sturdy plastic as standard. The comfortable replaceable upholstery is available in a selection of finishes and colours.
Isitec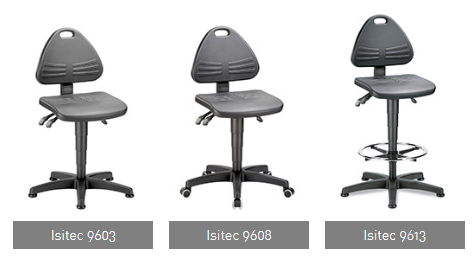 Tough performer: Whether it is abrasive dust, oil or swarf – Isitec demonstrates the capability of a good production work chair. The soft-touch integral foam (PU) is extremely hard-wearing, washable and resistant to disinfectant. Furthermore, Isitec has a particularly soft and comfortable seat. All adjustment features of the chair are quick and easy to operate when sitting by using a lever.
All-In-One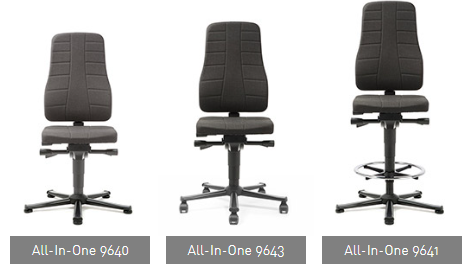 A real all-rounder – the All-In-One is closing the gap between office and work chairs. All the ergonomic properties expected of an office chair can be found in the Highline and Trend design lines. Its unique all-inclusive ergonomic concept ensures that the All-In-One suits every single person and every single workplace situation. As a work chair for industrial sectors, healthcare, research and development, it boasts a sturdy construction and hard-wearing, resistant materials.
Unitec
Low price, high performance. The Unitec work chair is the low-cost entry-level model for correct sitting in production environments. Its permanent contact backrest, a standard feature, provides staff with support when working in a seated position. The generous seating surfaces and backrests also ensure additional stabiliuty. With its selection of various covers, Unitec optically adapts to almost any working environment. This makes it a simple work chair for practically any application.
Stool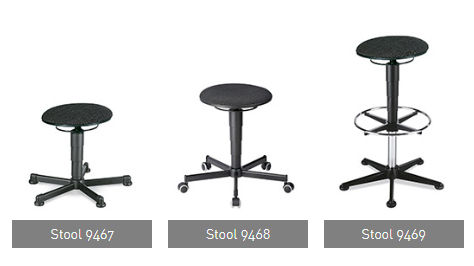 Hard-working assistants in every situation – the sturdy workplace stools from Bimos have an extra-large seat and thus provide the ideal support for work carried out in industry and trade. The stool's sturdy steel base and upholstered edge protection ensure high durability. With the practical ring release of the gas spring, the height of the workplace stool can be conveniently adjusted.
Accessories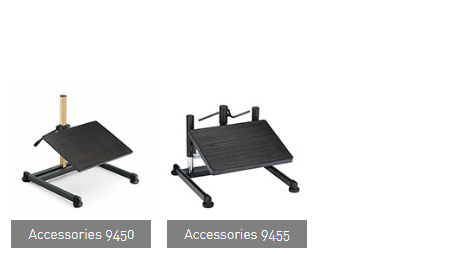 Down-to-earth support: The footrest provides the correct leg support when at an elevated sitting position on the work chair or stool. It reliably ensures the optimum angle is achieved between thigh and upper body. It is easily adjusted to meet individual requirements using an infinitely variable height and tilt setting. The footrest thus guarantees good circulation in the legs at all times – regardless of the working environment or the chair being used.