Aptima® HPV +ThinPrep® Cervical Health
Leading the charge in cervical disease prevention with the ThinPrep® system and Aptima® HPV assays
Hologic has remained an unwavering advocate for women's health for more than two decades. Our goals as a company are intrinsically tied to changes in best-practices for women's health, applying the latest findings in diagnostic medicine to the development of new products and technologies in response to the emergence of new discoveries in medicine.
Cervical disease screening is an essential component of our efforts in women's health. Hologic is the leader in Pap and human papillomavirus (HPV) testing. The ThinPrep Pap test helps healthcare providers and laboratory professionals detect the presence of abnormal cervical cells, and the Aptima HPV assays identify high-risk HPV mRNA that is indicative of the HPV infections most likely to lead to cervical disease.
---
Know the Facts
The Pap test has been the most successful cancer screening program in history.
The rate of cervical cancer, which was a leading cause of death among women, has fallen by more than 70 percent since the Pap test was introduced over 80 years ago. Previously, cervical cancer was the leading cause of cancer death in women, but now it is the fifteenth most frequent.
---
Reducing cervical cancer incidence requires a comprehensive strategy.
Such a strategy will include screening options that take into account disparities that underserved women face. This strategy should focus on reducing preventive screening gaps by:
Implementing provider and patient education
Providing access to vaccinations
Offering Pap + HPV (co-testing)
---
ACOG, ASCCP, SGO and USPSTF guidelines recommend:
For women ages 21-29 years
Screening with cervical cytology alone every 3 years is recommended.
For women ages 30-65 years old
Co-testing with cervical cytology and high-risk HPV testing every 5 years is recommended.
For women ages 65 years and older
Do not require screening after adequate prior negative screening results.
---
The Preferred Choice in Pap Testing
The ThinPrep Pap test was the first liquid-based cytology option in cervical cancer screening. In more than two decades the ThinPrep Pap test has contributed to a significant decline in cervical cancer rates.
More than 80% of the Pap Tests in the US are preformed with ThinPrep, with more than 1 billion tests preformed globally so far.
90% of the Top US Best Hospitals for gynecology trust the ThinPrep Pap Test.
---
Regardless of the algorithm, the collection method is the same.
The difference is in the results — with HPV-Alone†, you will receive less information with the same collection. Samples may be collected in an FDA approved liquid-based cytology medium, such as ThinPrep® Pap Test.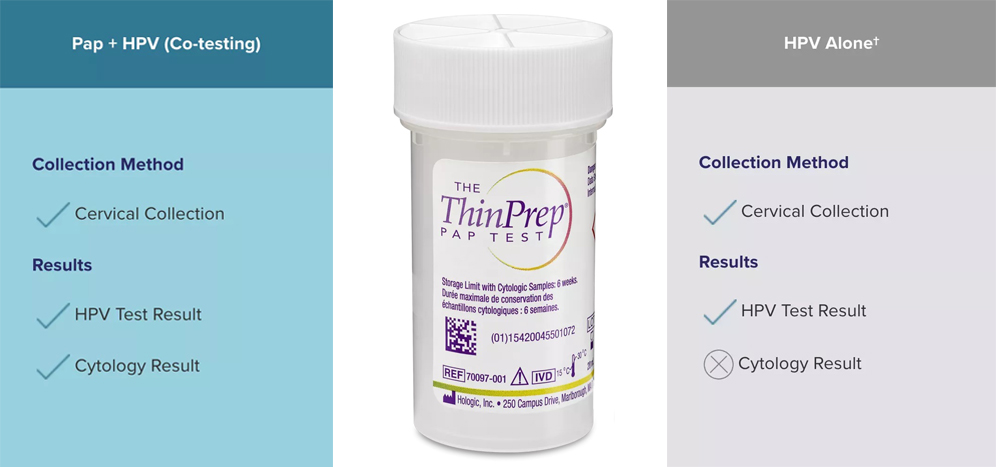 ---
A comprehensive list of FDA Approvals/Clearances for Ancillary Testing Needs: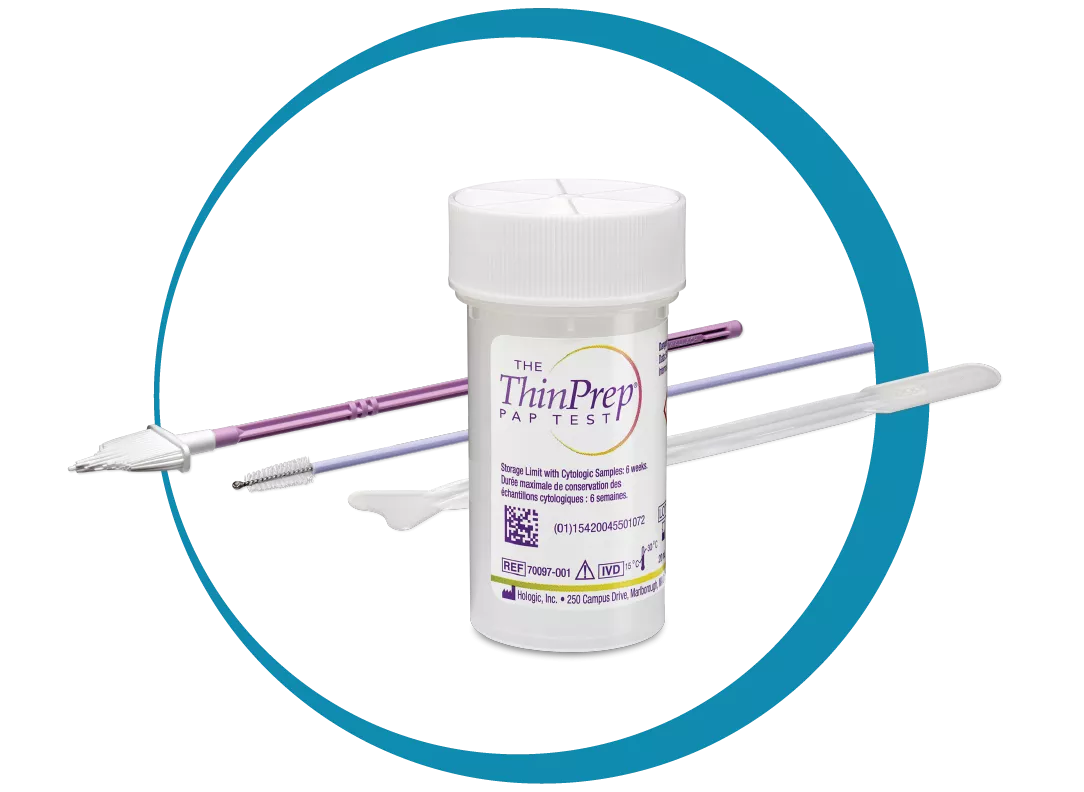 ThinPrep® Pap Test
Aptima® HPV assay
Aptima® HPV 16 18/45 genotype assay
Aptima Combo 2® assay for CT/NG
Aptima® Trichomonas vaginalis assay
cobas® HPV assay
cobas® AMPLOCOR CT/NG test
Hybrid Capture 2 HPV DNA Test
ProbeTec™ CT/GC Qx Amplified DNA assays
---
Aptima® HPV 16 18/45 Genotype Assay
The next-generation genotype test.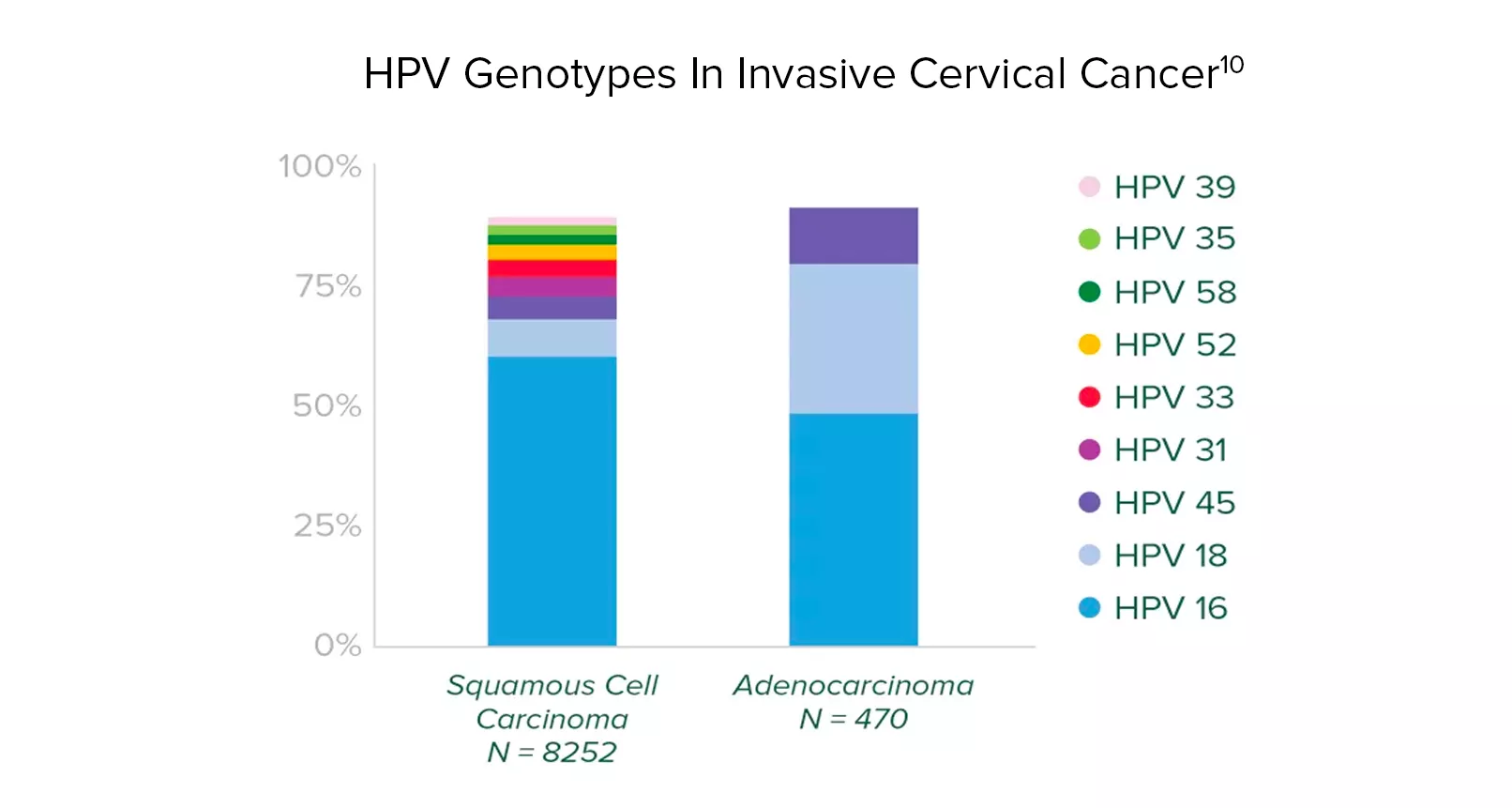 ---
About HPV Type 45:
It is uncommon and only prevalent in 0.4% of women with normal cytology.
It is the third most common HPV type in invasive cervical cancer.
Adenocarcinoma is associated with types 16, 18 and 45.
The Aptima HPV 16 18/45 genotype assay targets these genotypes. These genotypes identify more women at risk with minimal impact to colposcopy rates.
HPV types 16, 18, and 45 are associated with up to
94%
of HPV-related cervical adenocarcinomas.
---
Identify
Identify the presence and activity of high-risk HPV Infection.
Superior specificity
Equivalent sensitivity to DNA based tests, with superior specificity.
Next generation
Next generation genotyping.
Aptima® mRNA HPV testing: detects E6/E7 mRNA. The expression of E6/E7 is indicative of the HPV infections most likely to lead to disease. The Aptima® HPV assay maximizes the benefits of screening while minimizing the potential harm.
Studies have shown that while nearly all unvaccinated sexually active men and women will have HPV at some point in their lives, very few infections will progress to cancer.