Panther Fusion® Respiratory Assays
Syndromic Respiratory Testing Patient-Specific Results
The Panther Fusion Respiratory assays are the premier set of assays on the Panther Fusion system. You can provide truly personalized syndromic respiratory testing with qualitative detection and differentiation of the most common respiratory viruses from a single patient sample. Each Panther Fusion Respiratory assay can be processed independently or simultaneously with other Panther Fusion and Aptima® assays.
The Panther Fusion Flu A/B/RSV, Panther Fusion Paraflu and Panther Fusion AdV/hMPV/RV assays comprise the IVD respiratory testing menu on the fully automated Panther Fusion system. Each is a multiplex, real-time PCR in vitro diagnostic test. These assays can be run on nasopharyngeal (NP) swab specimens obtained from individuals exhibiting signs and symptoms of a respiratory tract infection. Additionally, the Panther Fusion SARS-CoV-2 assay has received Emergency Use Authorization for the detection of SARS-CoV-2 from nasopharyngeal, nasal, mid-turbinate and oropharyngeal swab specimens, nasopharyngeal wash/aspirate or nasal wash, and lower respiratory tract specimens.
---
Personalized Respiratory Testing
The Panther Fusion assays provide the flexibility to run patient-specific targets, allowing for personalized patient testing and better cost control in your lab.
The Panther Fusion Flu A/B/RSV assay – Qualitative detection and differentiation of influenza A virus, influenza B virus and respiratory syncytial virus.
The Panther Fusion AdV/hMPV/RV assay – Qualitative detection and differentiation of adenovirus, human metapneumovirus and rhinovirus.
The Panther Fusion Paraflu assay – Qualitative detection and differentiation of parainfluenza virus, parainfluenza virus, parainfluenza virus and parainfluenza4 virus.
The Hologic® SARS-CoV-2 assays* – Qualitative detection of SARS-CoV-2 virus.
---
Flex Your Ability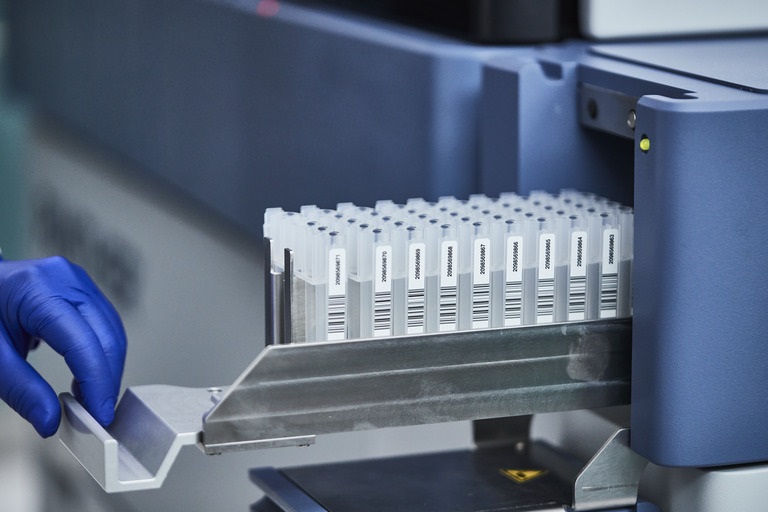 With the Panther Fusion Respiratory assays, a single patient specimen can be tested for SARS-CoV-2 as well as other common respiratory viruses which present with overlapping symptoms, boosting efficiency and increasing clinical insight.
---
Additionally, when you leverage the power of Panther Fusion, your lab can:
Run more efficiently with full automation from sample-to-result.
Receive easy-to-interpret results.
Personalize syndromic respiratory testing by processing multiple assays from a single specimen.
Control costs by running only the required assays and reduce expense of unnecessary tests.
Eliminate the need for reagent preparation with Panther Fusion's ready-to-use format.
Reduce waste with 60 day on-board reagent stability.
Consolidate menu onto a single, fully automated platform with the ability to run both Aptima and Panther Fusion assays alongside each other at the same time.